To make sure customers will try your yummy cookies, you need them to get noticed. Skuish created custom cookie packaging boxes that are sure to achieve that.
There are different ways to make the world a better place. We are firm believers that everyone who follows their vision and do the work they know how to do best improves our community. Skuish cookies decided to inspire the world through baking exquisite cookies. To make sure they are inspiring their customers on every level, they decided to have well-designed quality custom cookie boxes.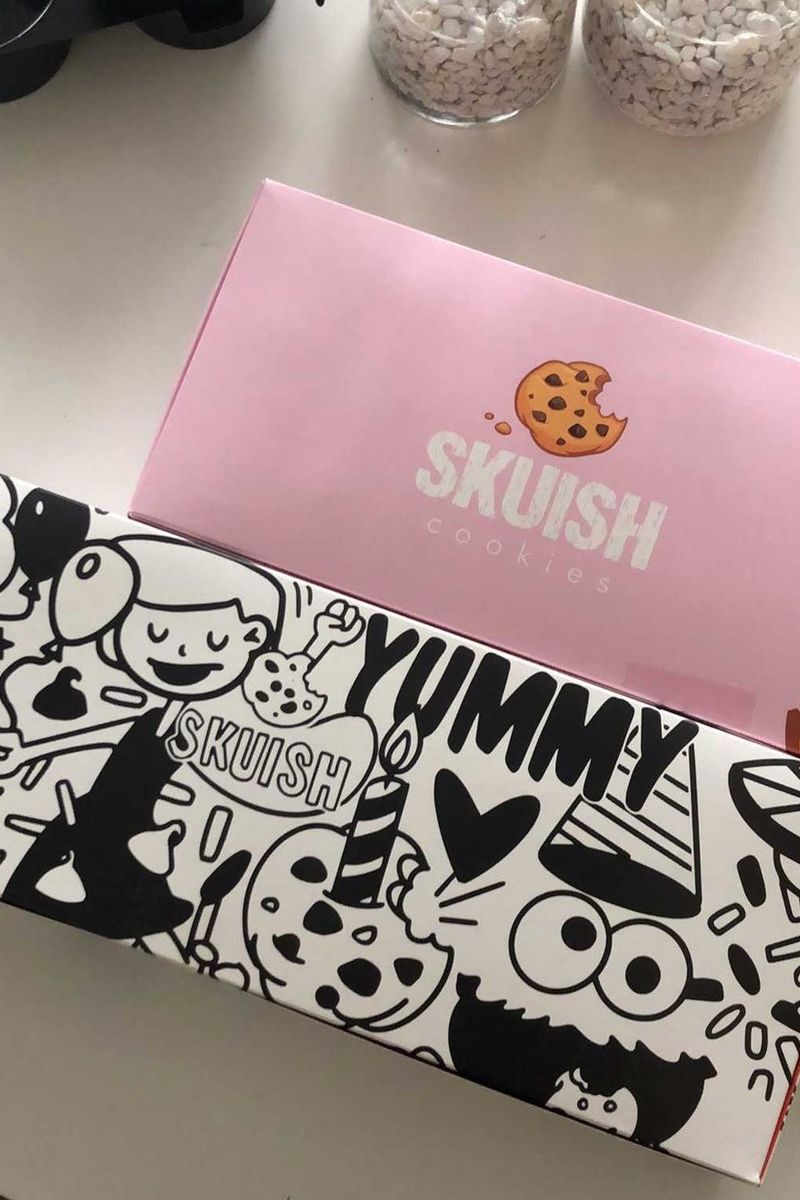 Skuish Cookies – Made with Love
Their cookies are made with love and with family and community with strong relationships in mind. They are hoping to inspire everyone to be the positive change they want to see in their lives. Because Skuish cookies believe in leading by example, their mission is to help end hunger in Canada and worldwide. That's why they are donating 5 meals for every box sold and are working towards their goal of feeding 1 million children by 02/02/2022! They are donating to several agencies, such as
Where to Find Skuish Cookies
Although their goal is to help make the world better, they know that everyone should start by improving their local community. This is why Skuish is buying their ingredients locally and creating job opportunities in their own city.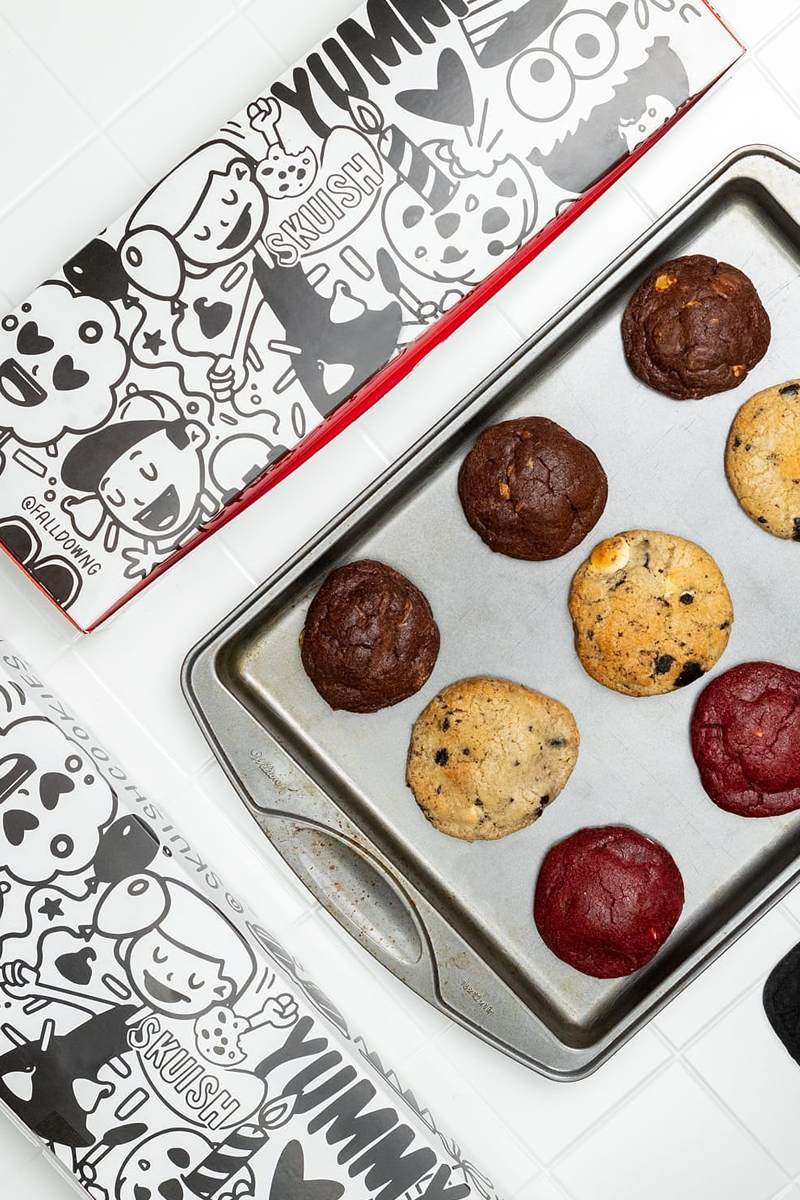 Skuish Cookies are sold on the Skuish website, and through HeadQuarters and Wild Child Coffee Project, in Ottawa. But you can contact them if you are interested in partnering up and sharing the love by including tasty Skuish cookies in your offer.
Skuish is selling their cookies frozen and ready-to-bake or already baked. They have three different flavour combinations. You can choose the one that most suits your taste or try them all.
Seeing how many satisfied customers left positive reviews always makes us crave these wonderful cookies.
Quality Cookies Deserve Quality Cookie Box Packaging
Newprint and Skuish worked together to make the best possible custom cookie box packaging for their delicious cookies.
Skuish chose to have the packaging that represents the quality of their products and the message their business wants to send. This is very important, as the packaging is the first thing your customers will see. It needs to attract the right kind of customers for your product.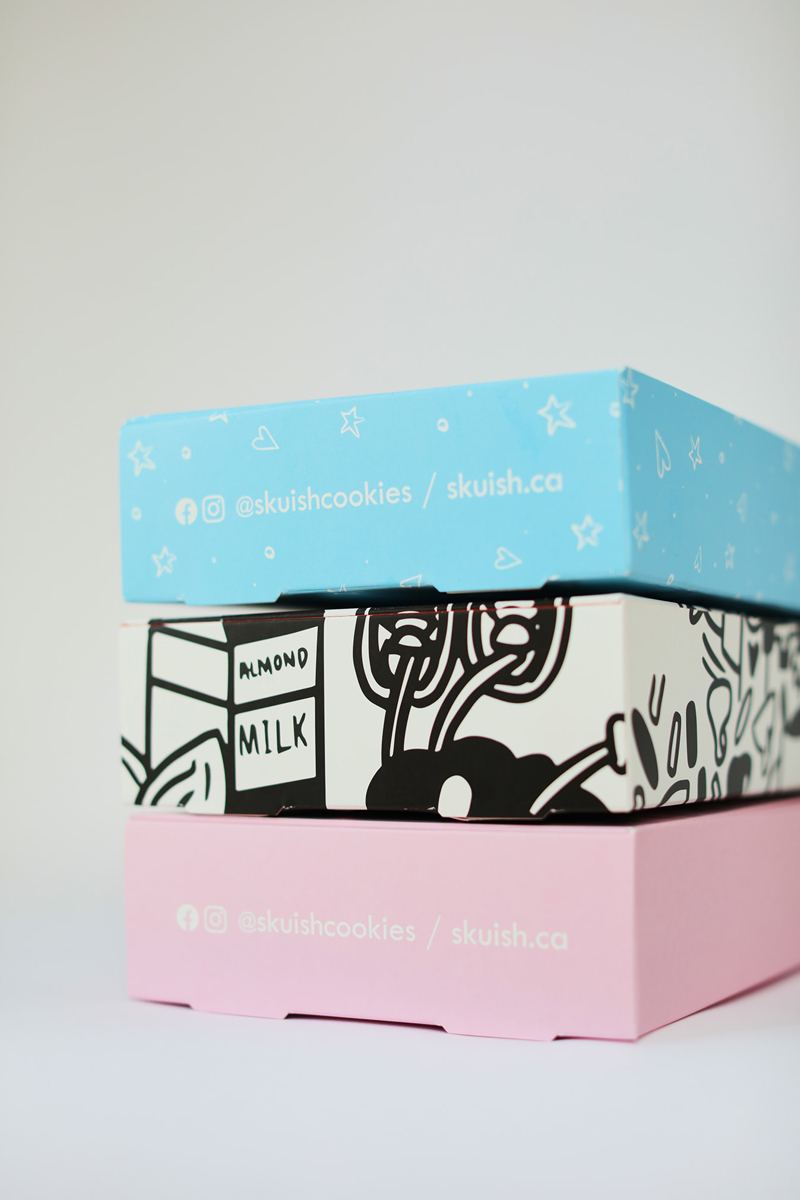 The design for their custom cookie boxes reflects values that their business is working hard to support. When you see this packaging, you can see that it is meant for the family and friends to enjoy the cookies while having fun together.
Like we wrote in our packaging colour blog post, using bright blue for your packaging symbolizes creativity and will appeal to younger audiences. It represents trust, reliability and unity. The Skuish custom cookie boxes evoke gentle feelings that can remind us of childhood and inspire us to spend time with our children, doing something bonding and creative.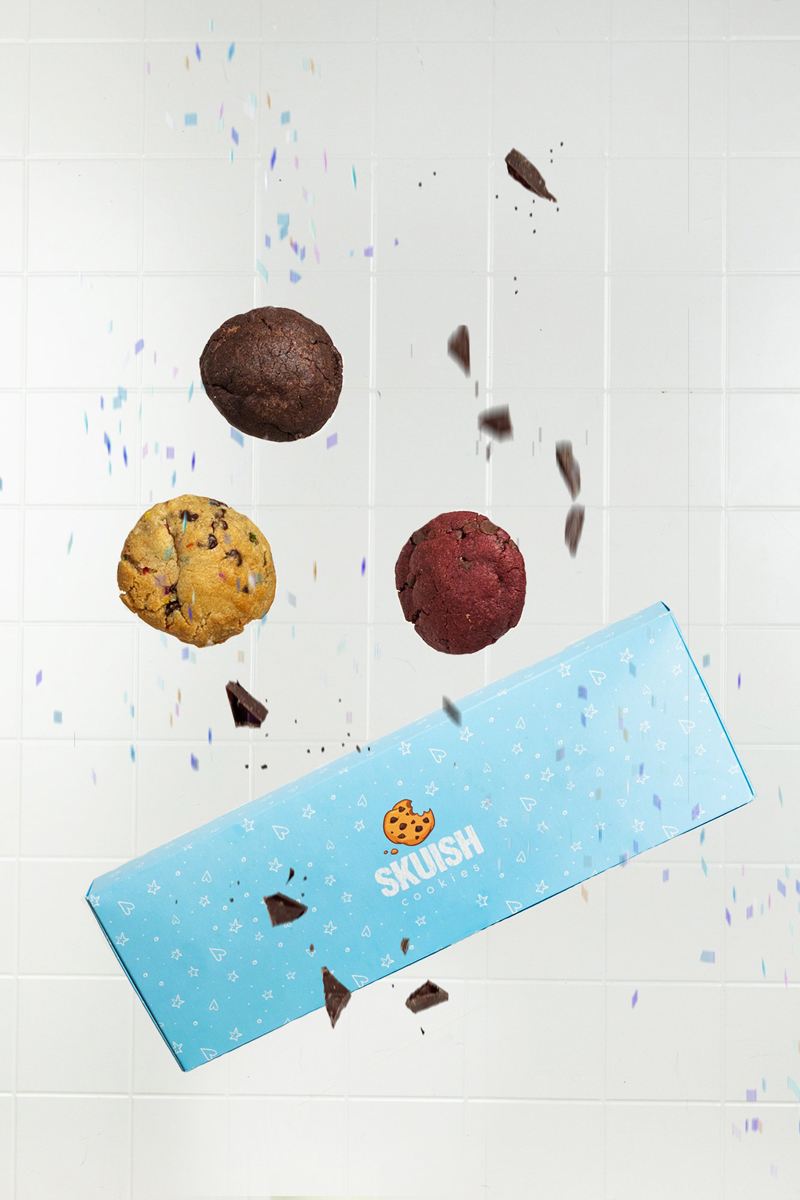 Pink packaging represents warm feelings, comfort and compassion, as well as hope for the future. This will inspire customers to show appreciation and spend time with their loved ones.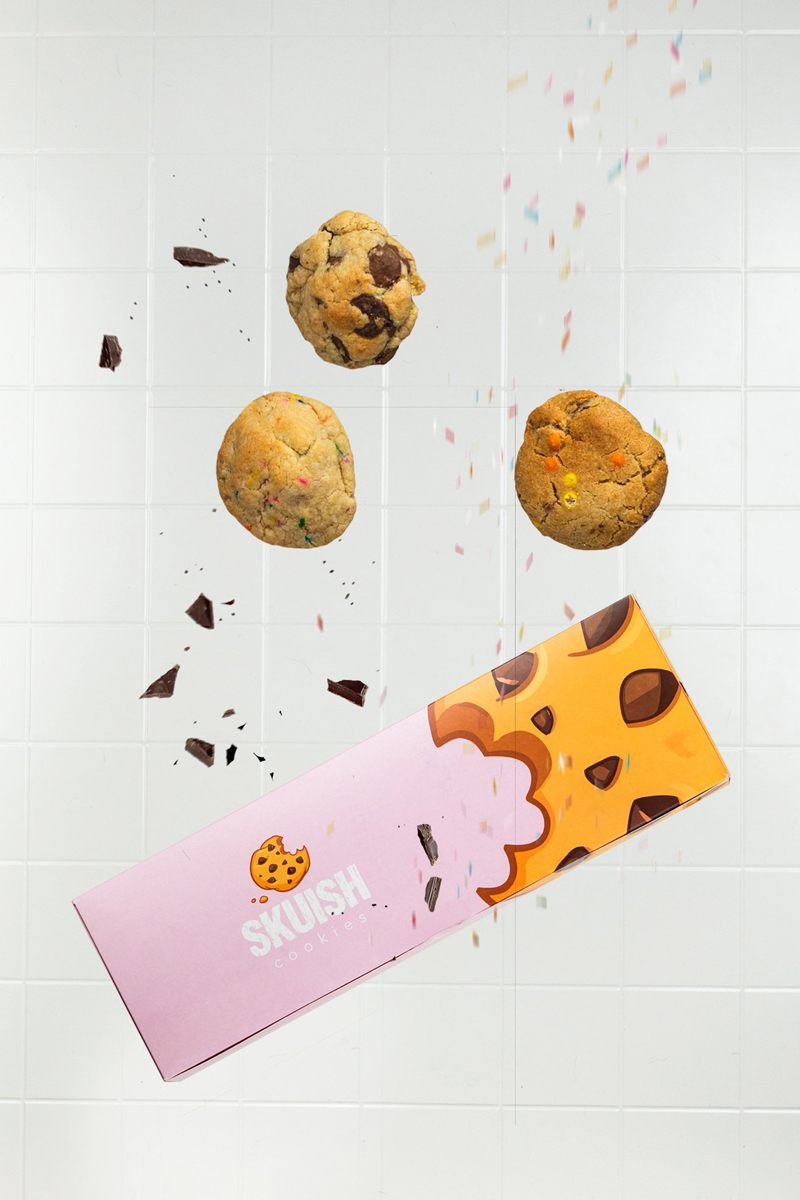 Both of these cookie box packaging designs are playful and warm, which is just the feeling we are hoping to get when we are buying cookies. The cookie flavours that come in these two boxes are universally loved by children and grown-ups alike.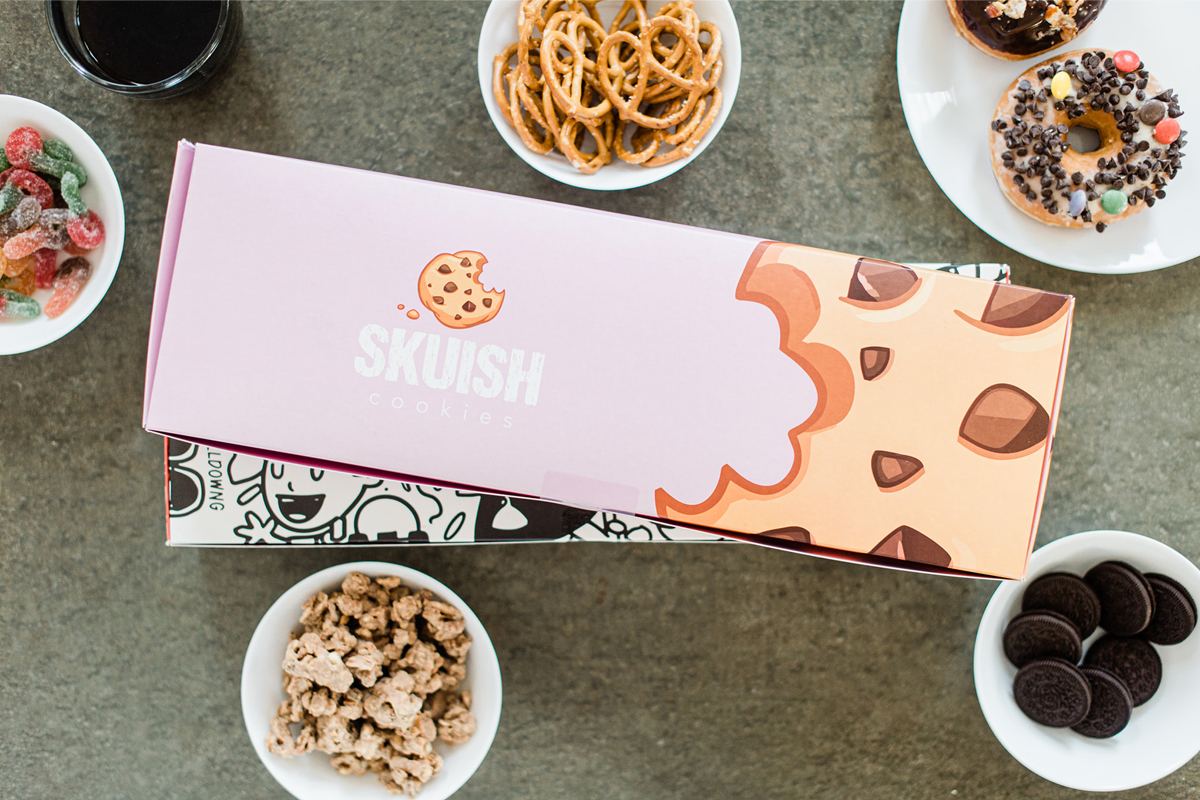 The third box with a cartoonish design is a bit bolder and more likely to attract teenagers than the other two. As such, it holds cookie flavours that are just a bit more adventurous and less common, but still well-loved.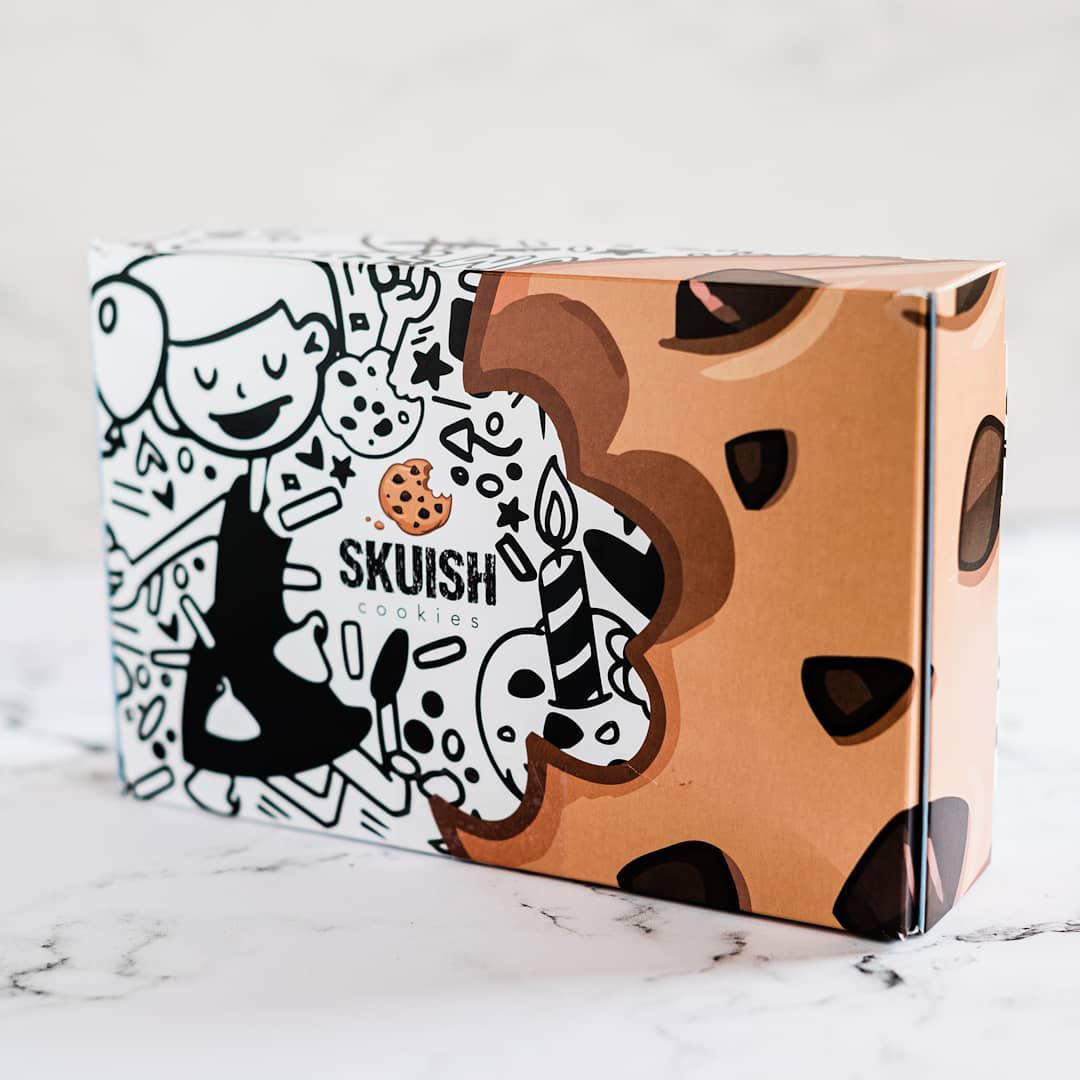 These boxes are made from a 24 pt gloss C2S folding board, with AQ (Aqueous) coating applied. This coating is water-based and eco-friendly, which makes it perfect for food packaging. It offers additional gloss and protection, thus making the packaging more durable.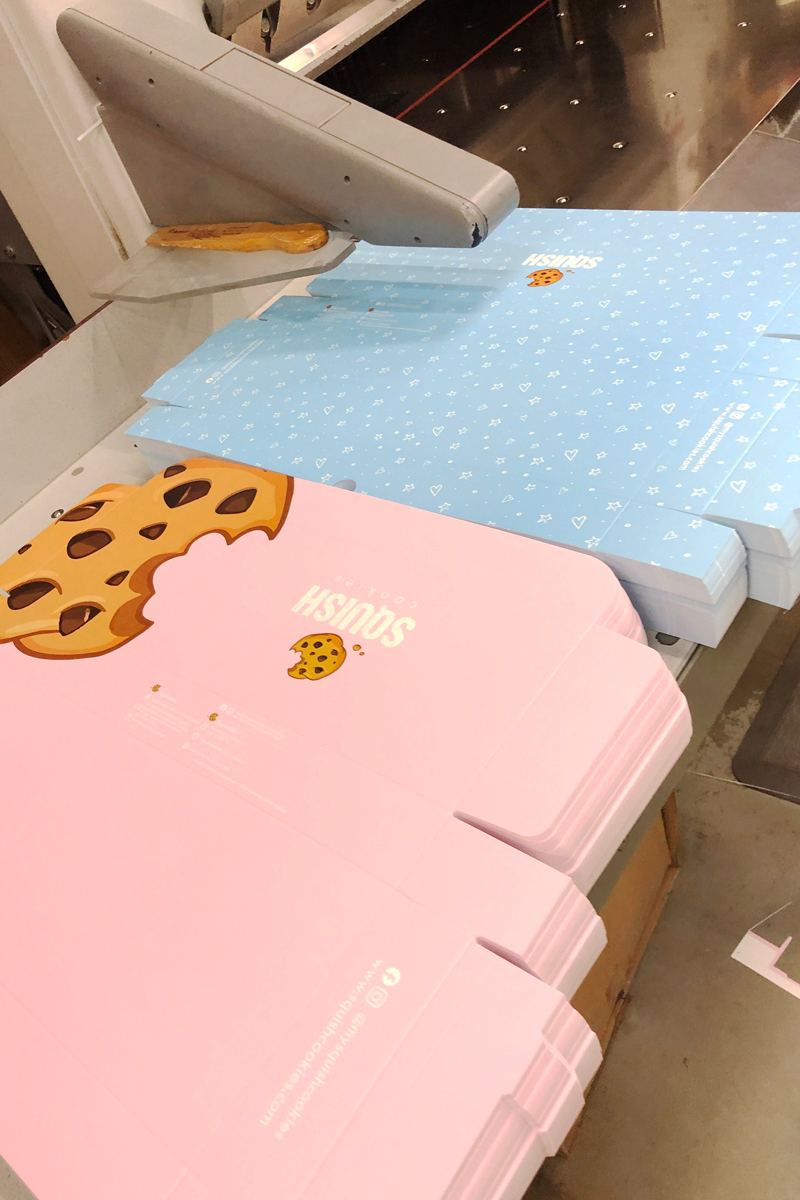 Adding custom roll labels made their packaging even more recognizable and on-brand.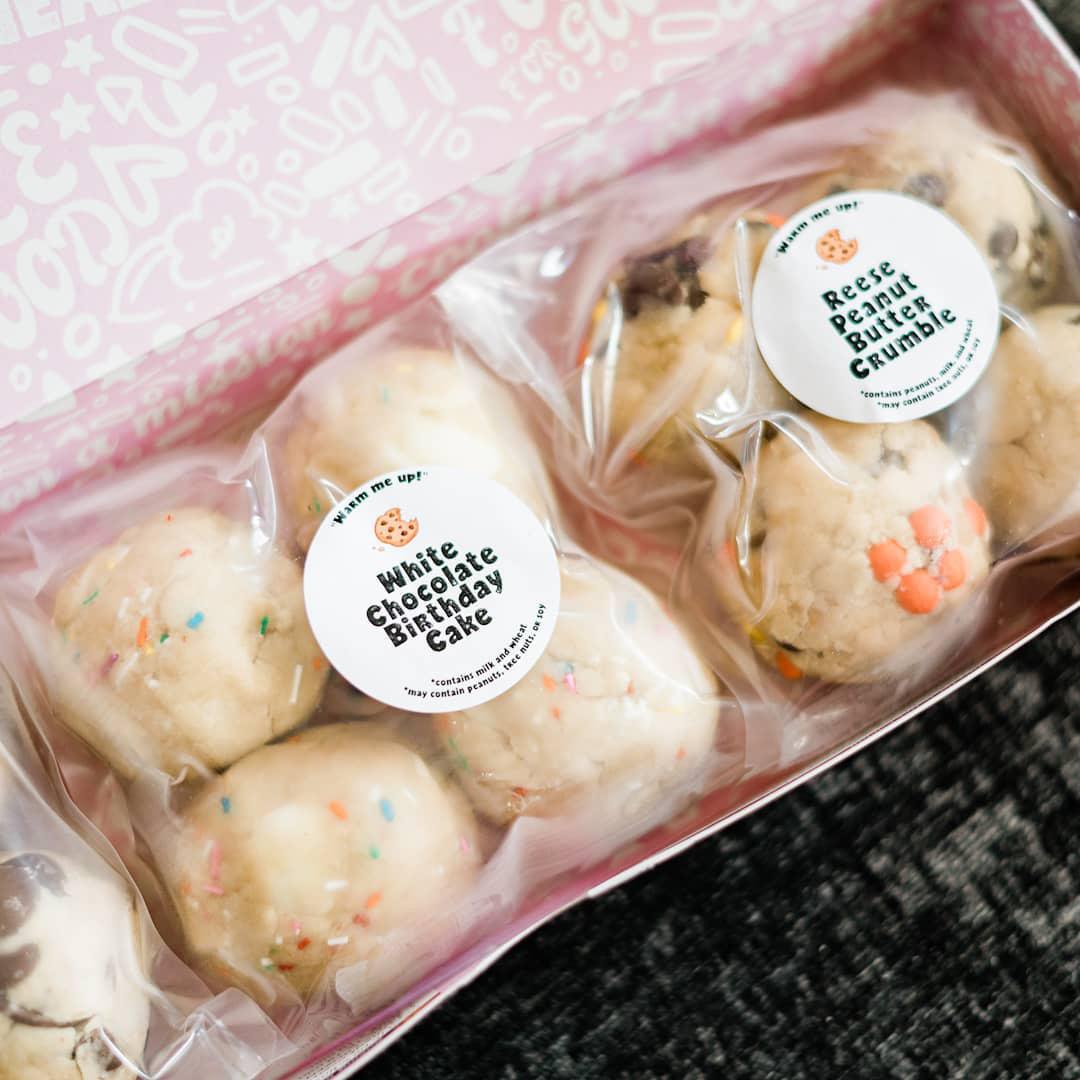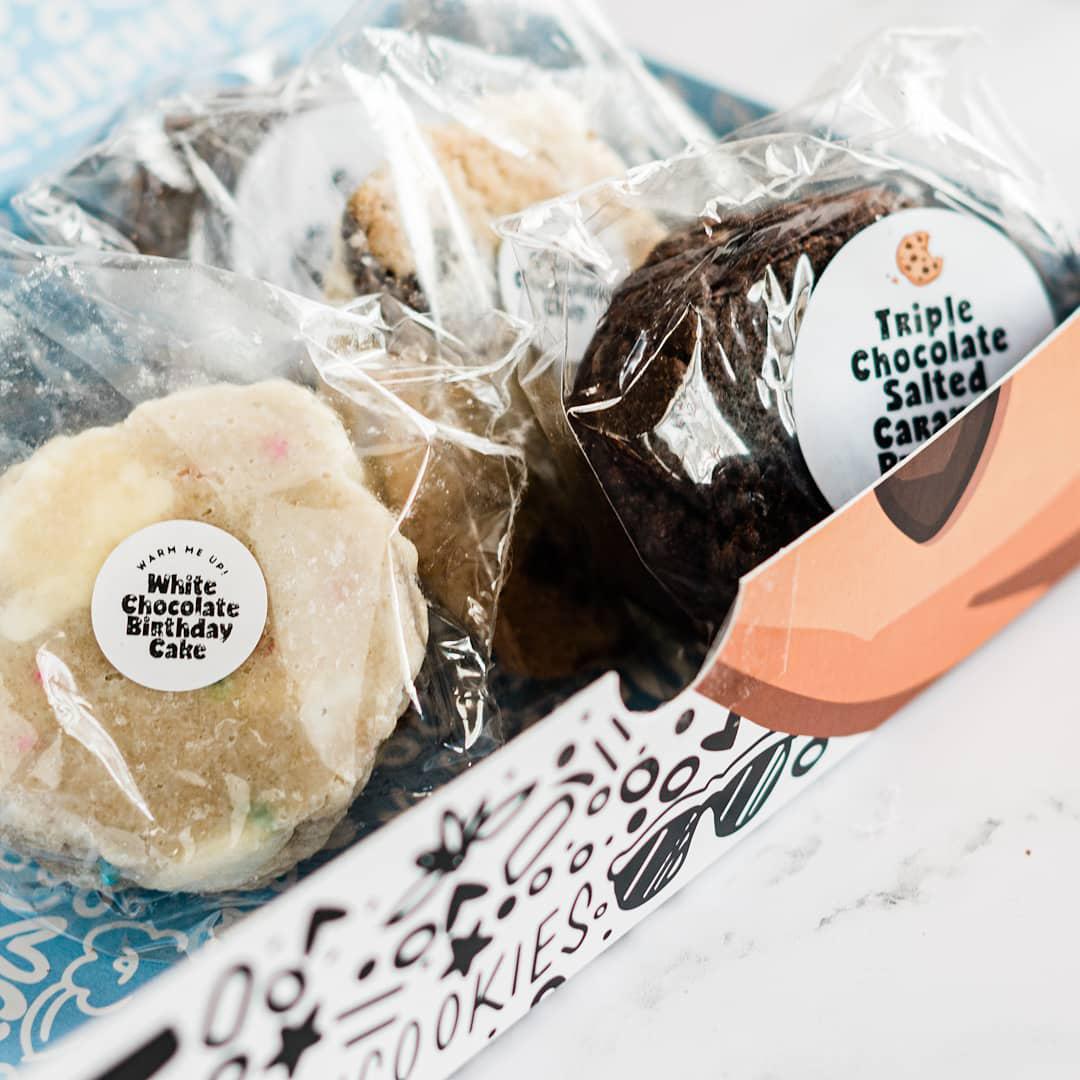 Skuish packaging will make these cookies noticeable, and once people try them, they will undoubtedly come back for more because of the taste. This is definitely a winning combination.
If you are interested in custom cookie box packaging, visit our Custom Packaging page and see the available options. If you are not sure how to design custom cookie box packaging, our team of graphic design professionals will be glad to help you.