Marketing tools to support your take-out business during the pandemic.
Food delivery has been a growing industry for some time now, but the global pandemic has made it a primary income generator for businesses dealing with food. Social distancing has raised the level of importance of good packaging to an even higher level. Your customers need to know that it is safe to order from you and that their food is handled following the COVID-19 safety guidelines. Packaging also becomes the only way (besides the food itself) of creating a personal connection with the customers.
Here are some products that can help you bring your take-out service to the highest possible level.
Custom product packaging allows you to choose among many options that best suit your needs, and it is your brand's best physical representation. Unique packaging can set your brand apart from the competition.
Visit our custom packaging page for more information.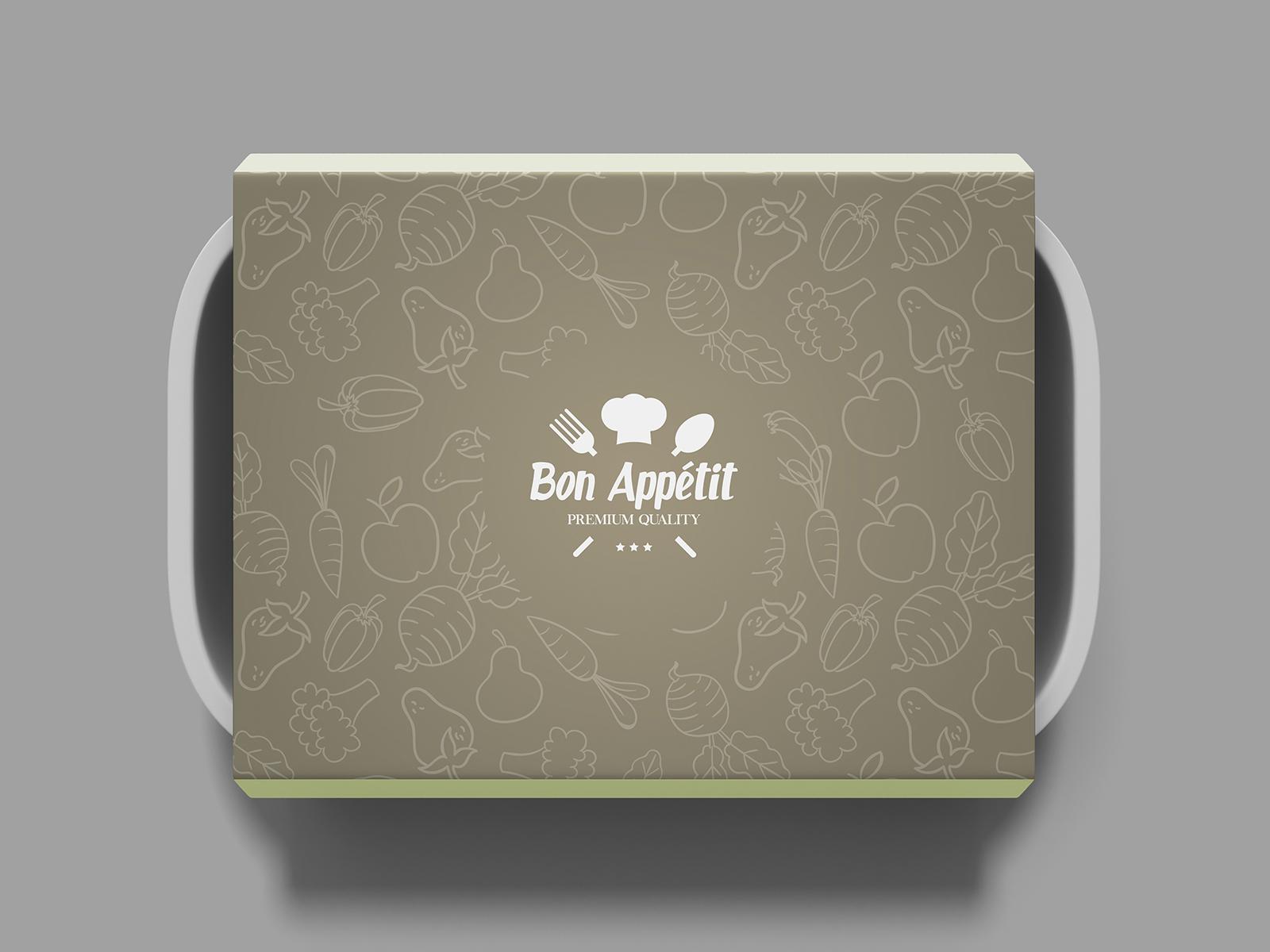 Custom Food Container Sleeve Packaging is a simple, low-cost food packaging solution to help your products stand out. Sleeve packaging goes over standard plastic food containers. Printed in full, vivid colours to showcase your product and attract attention, they can also contain important information inside the box.
For more information visit our food container sleeves page.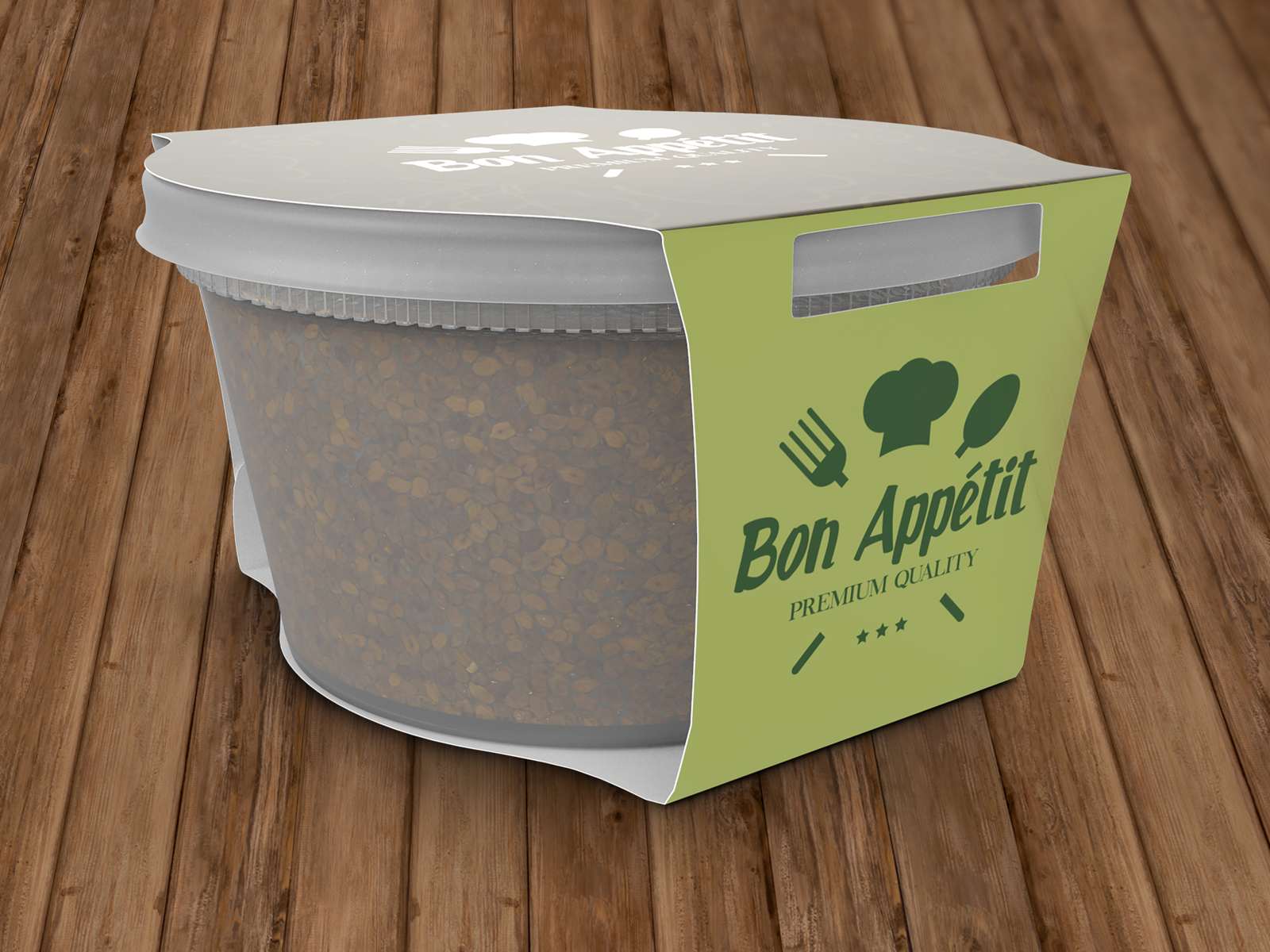 Coffee cup sleeves make sure that your customers do not get burned while enjoying their cup of coffee. But for you, they are a way to promote your business even after the customers leave your café. They remind the person drinking the coffee and everybody else who sees them where they bought that delicious beverage.
Check out our options for coffee cup sleeves.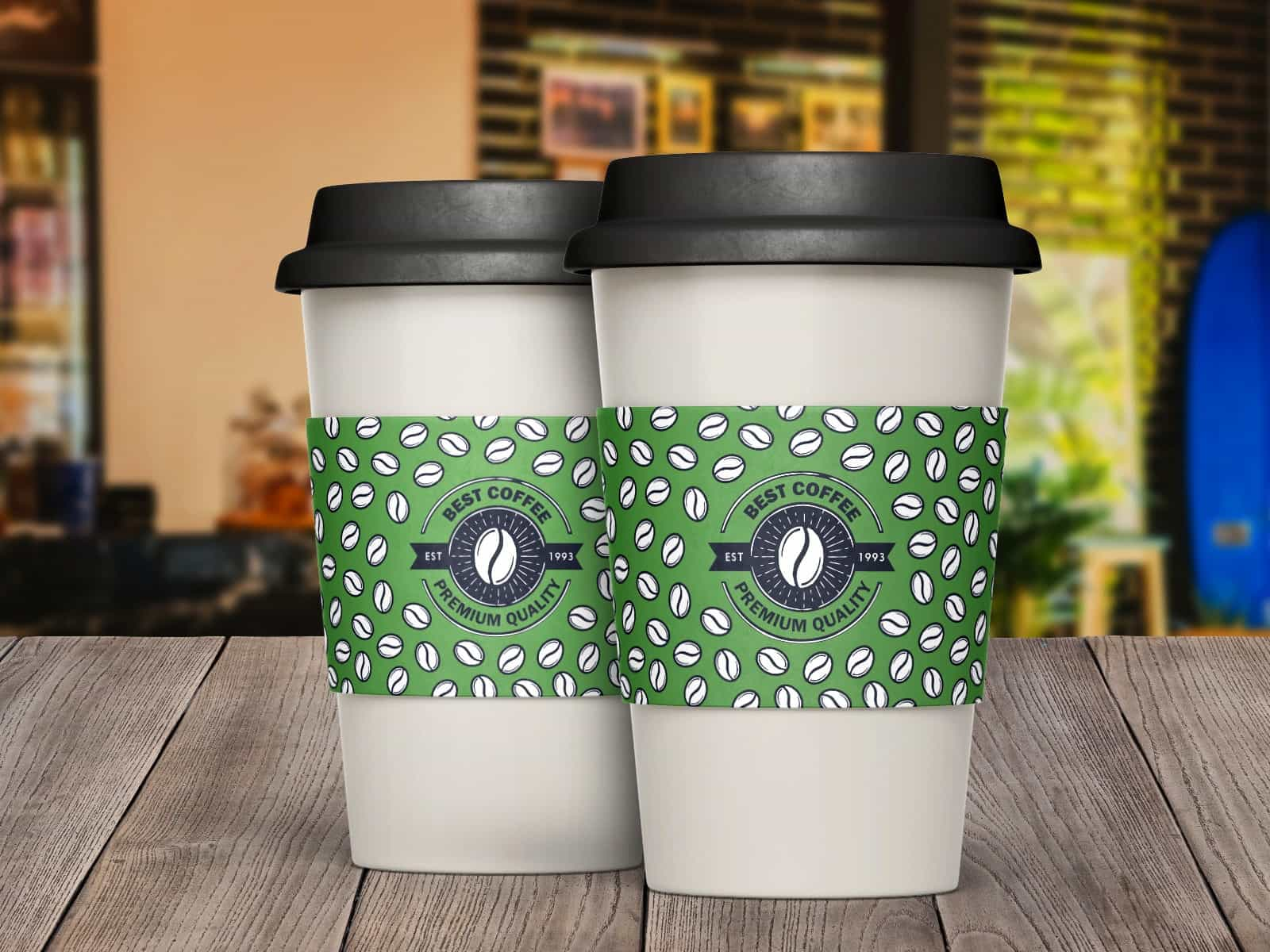 Labels and stickers serve multiple functions. They can give information about the product and personalize otherwise generic packaging. Labels and stickers also serve as proof that the food has not been tampered with. You can paste them on the container or seal a bag with them.
Choose among various options we offer on our labels page.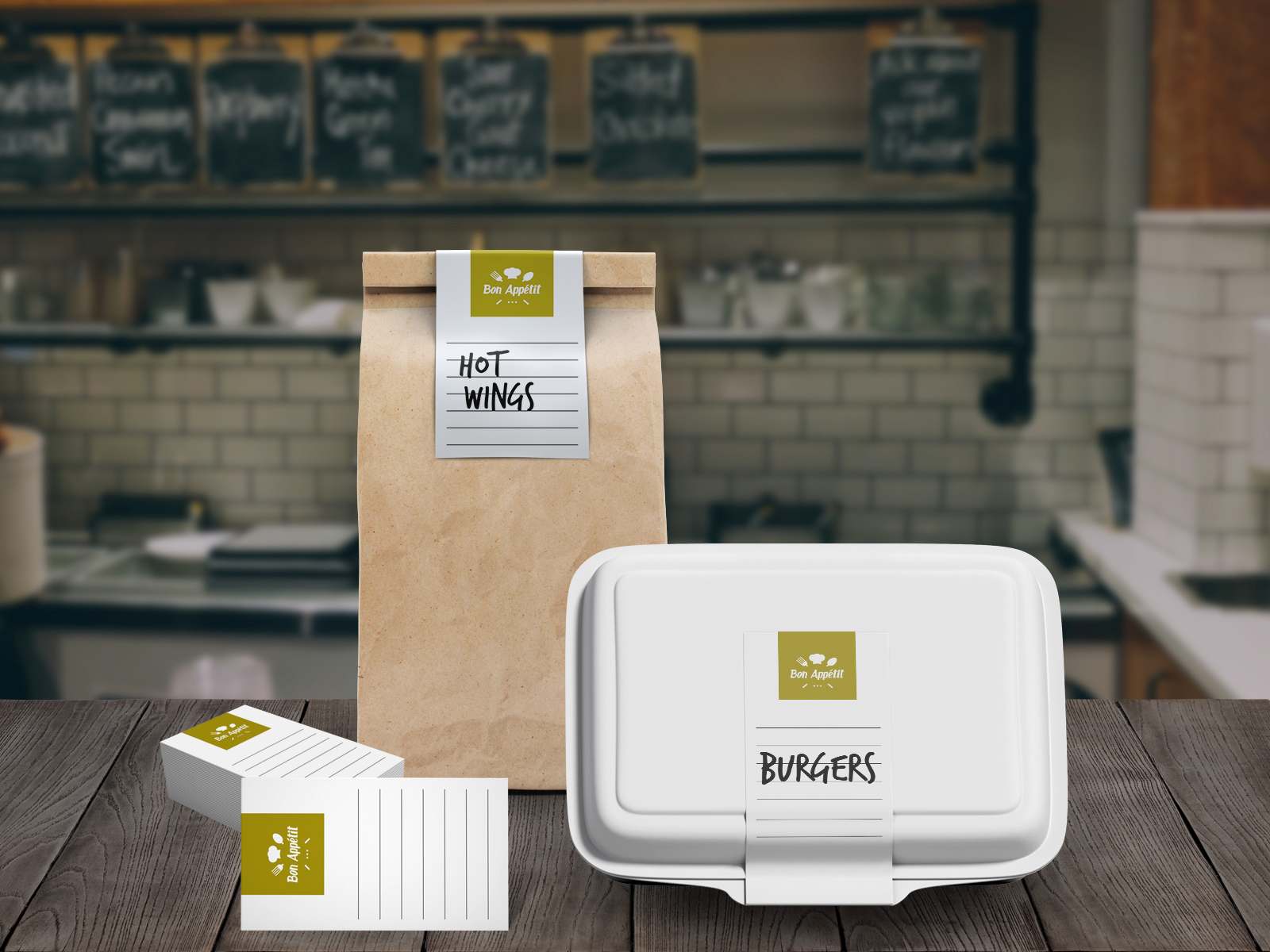 After creating your packaging, it is time to promote your take-out service. There are many different ways to do this:
Door hangers have long been used to distribute a message across a whole neighbourhood or area. We offer several sturdy paper options and customizable finishing, such as an optional perforation for a detachable portion, or the choice of a straight or angled slit. Restaurants are commonly using door hangers for their delivery menus. It's hard for people to miss a hanger on the door when they come home, so this is a high-visibility marketing solution. Door hangers often include discounts, coupons or special offers to attract customers.
Choose among available options on our door hangers page.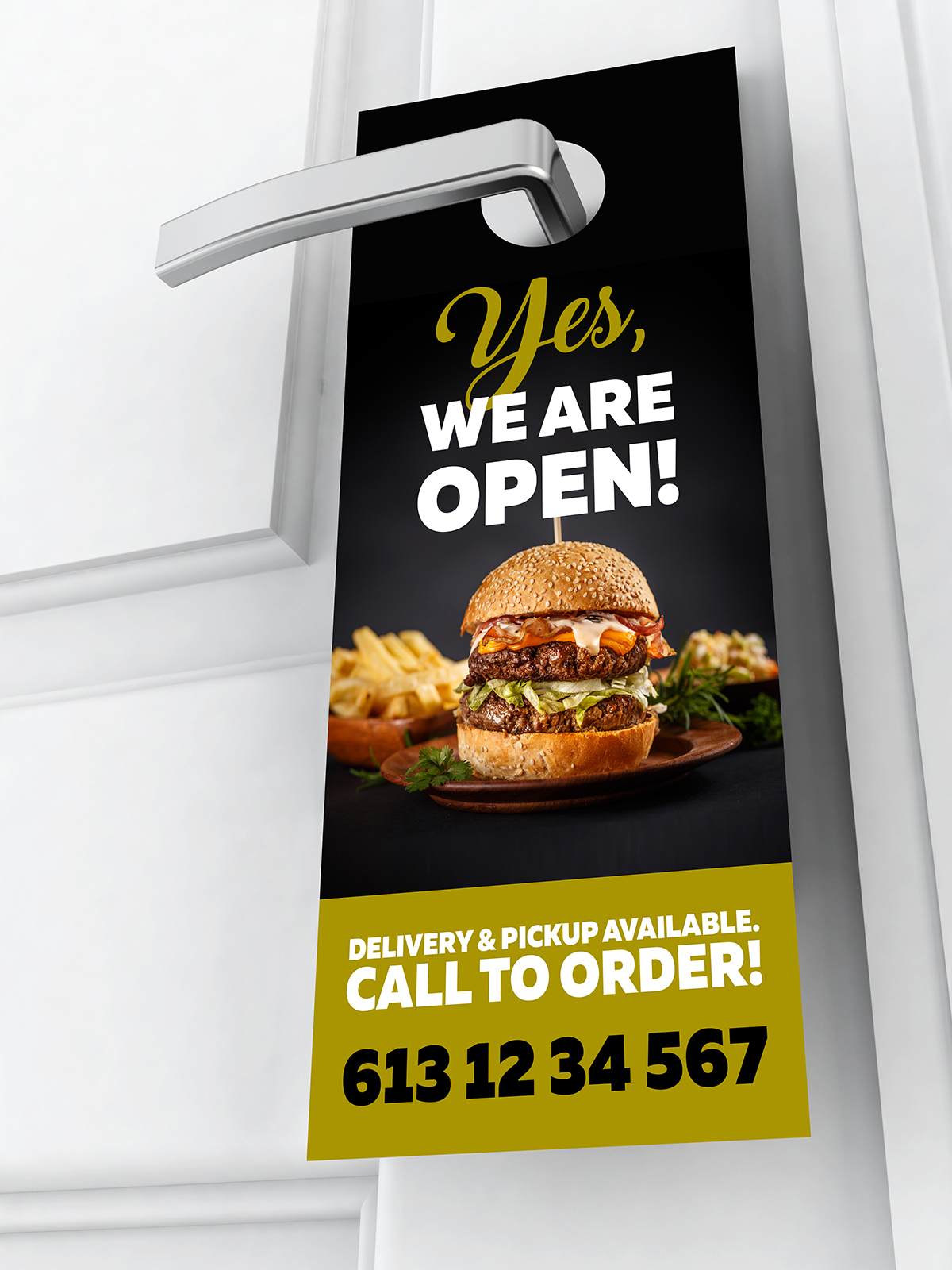 Outdoor banners are very useful for your customers to become aware of your take-out service. They are visible from a long-distance, so they are a great option for restaurants close to the roads or in areas with high traffic.
Visit our outdoor banner page to see available options.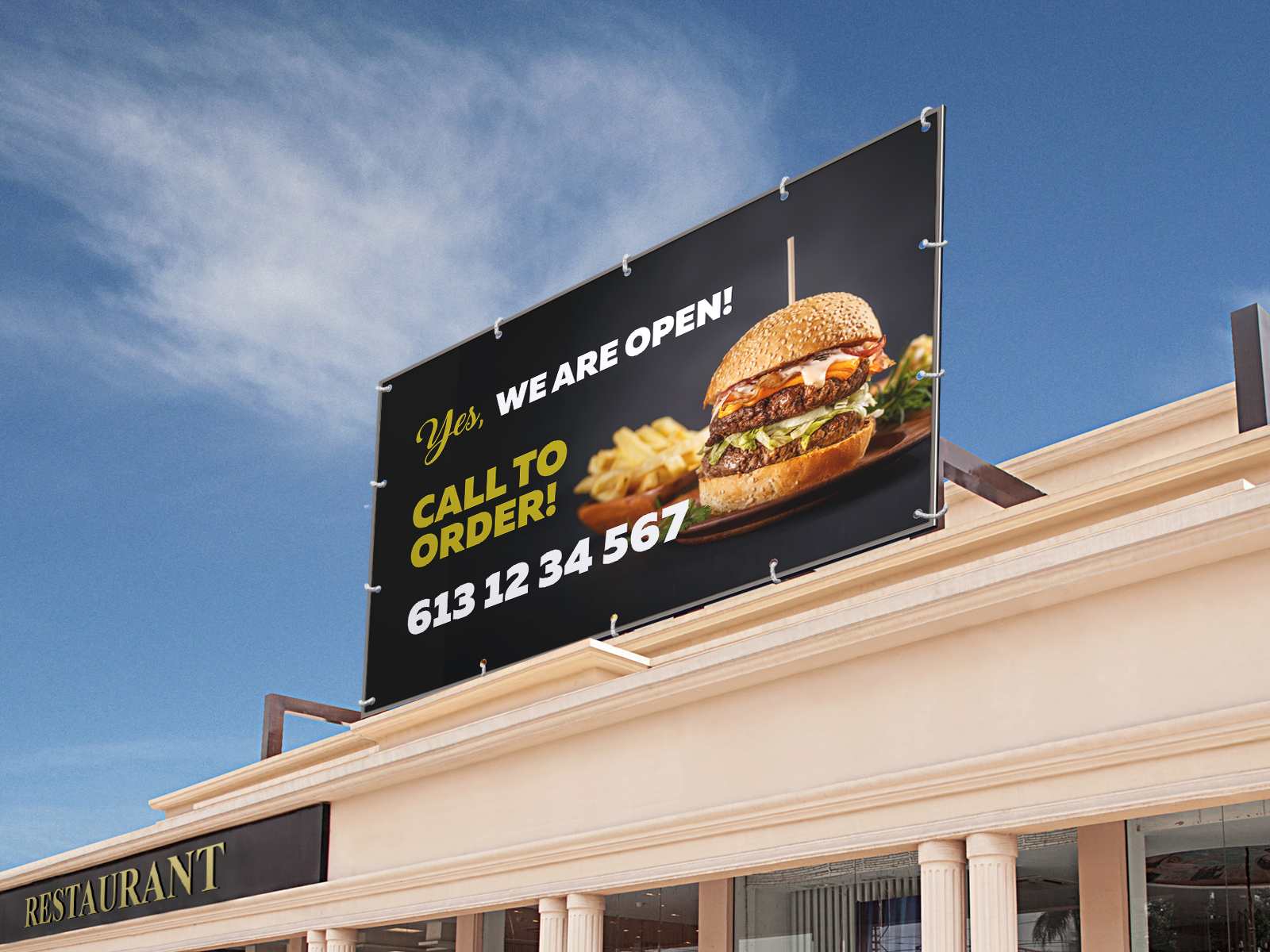 Postcards are top-rated marketing tools because of their flexibility. Their various sizes can fit any application, convey any message, and command attention. When paired with our mailing services, businesses have the opportunity to target specific households, demographics, or geographic areas for optimal success.
Check out our postcards offer.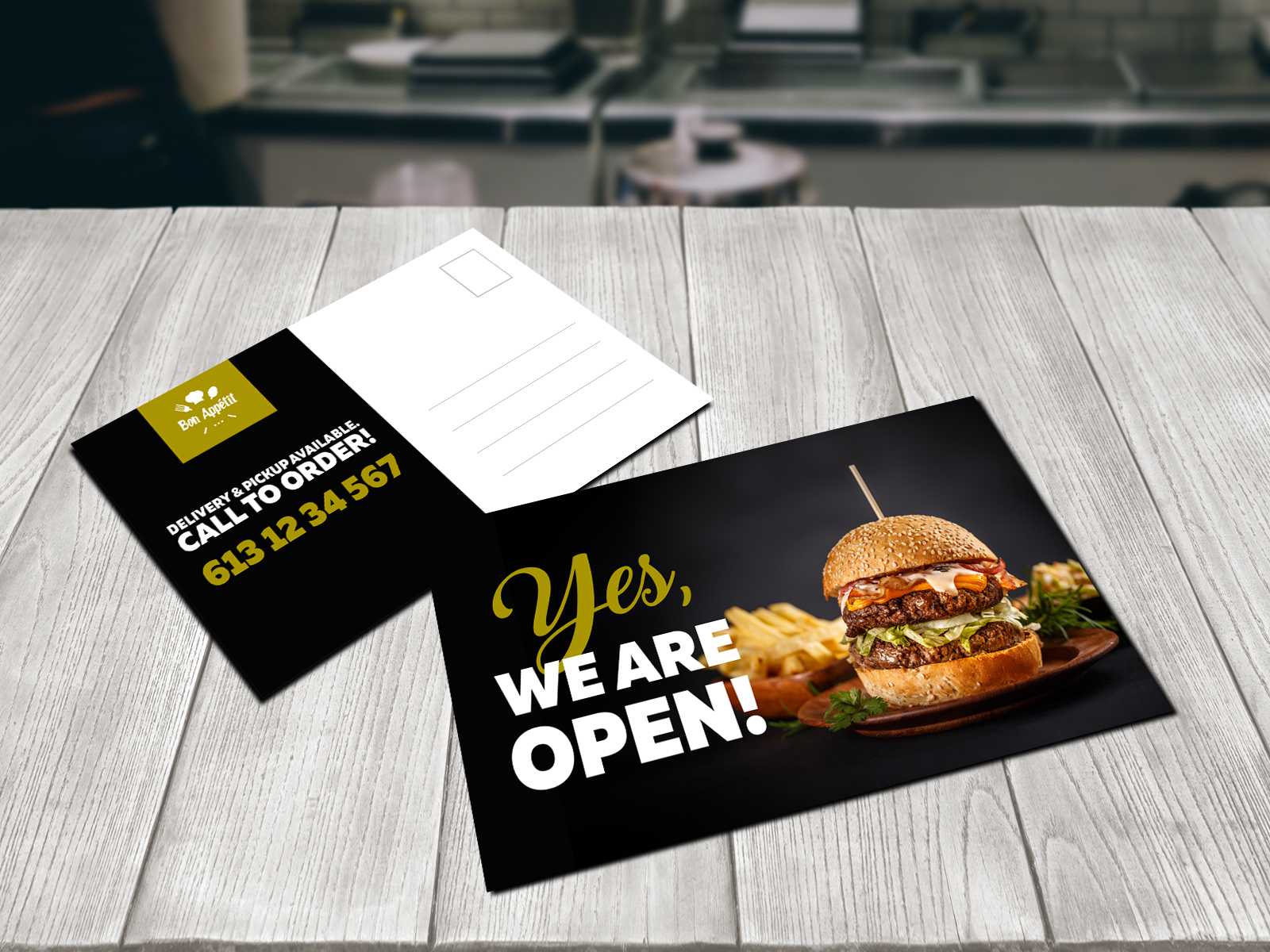 Take-out restaurant menus are a form of a brochure that can help create returning customers. If someone has enjoyed a meal from your restaurant, it is good to give them information about all the possible choices for their future orders. Disposable menus are a cheap but effective marketing option that every take-out restaurant needs, and you can see various options we offer on our brochures page.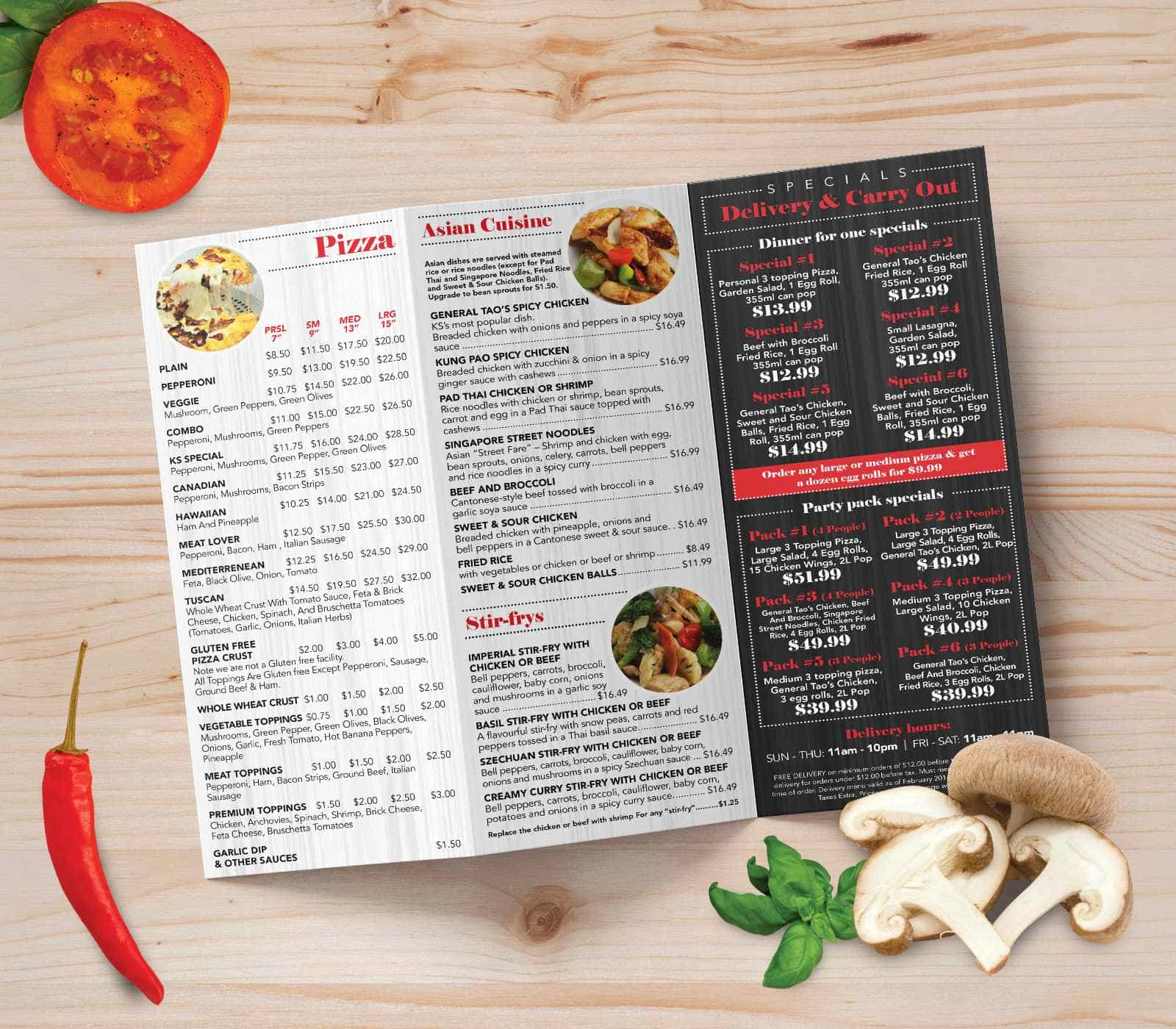 Extra tip: consider adding a QR code to your design to link directly to additional online information. This can be a great way to provide more detail than you would want to cram onto your labels or print marketing materials. Since a QR code can link to an online message, you can change the message without reprinting the QR code.
In times of social distancing, sharing a meal with their family gives people a much-needed sense of normalcy. Considering that everybody is spending most of their time inside the house, it is a welcome change not having to prepare family meals. All these packaging and marketing options are a good way for customers to remember who made the delicious food they are eating and order it again the next time they consider their take-out options.